Manchester School of Architecture MArch graduate Justin Chung has been commended by the Society for the Protection of Ancient Buildings (SPAB) as part of their annual Philip Webb Award - which tasks early-career architects with devising a scheme to revitalise a historic building.
As part of his submission, titled 'Islanded: a Reimagined Factory', Justin proposed a conversion of the now decommissioned HMP Shrewsbury into a manufacturing hub for handcrafted ceramics, glasswork and textiles.
"Having studied under the Continuity of Architecture Atelier for three years, the design ethos assisted my approach to my thesis projects, which regenerated the extant Dana Prison in Shrewsbury" says Justin. "My research investigates the lost notions of the relationship between place and building, and how a new urban locus can re-engage with craftsmanship whilst overlapping with contemporary technologies.
"I believe all buildings embody values and deserve a creative future, even buildings that have fallen into dereliction. Adaptive reuse will become ever more relevant in offering contemporary designs, by providing communicative values and a sense of place for future generations, and in doing so, help shape a thoughtful, imaginative and sustainable city."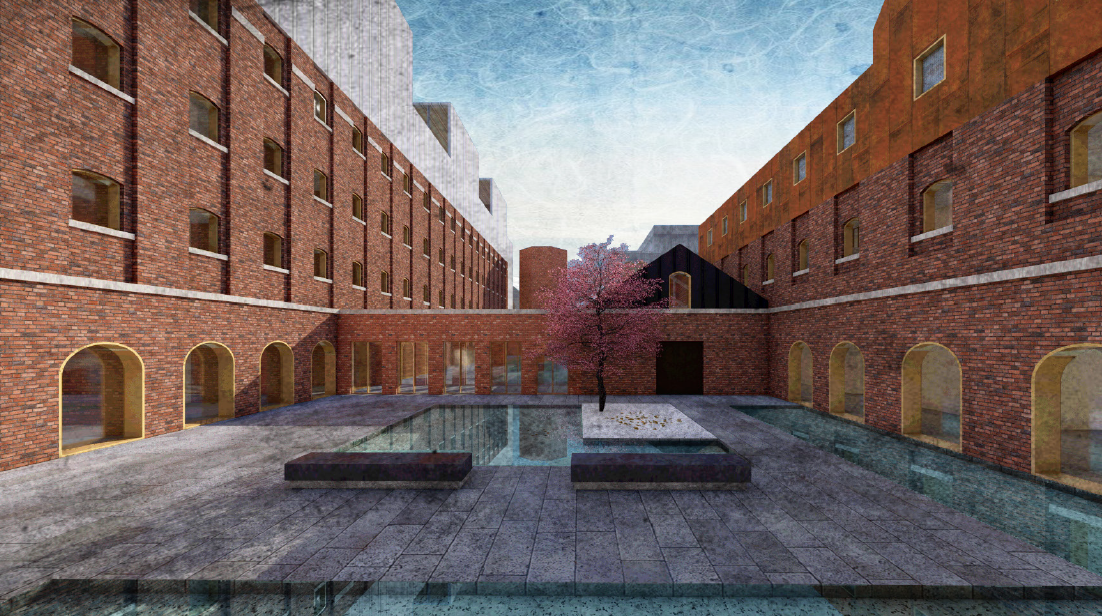 Sally Stone, Programme Leader for the MArch, adds that "For the last decade, the Continuity in Architecture Atelier has been specifically working with northern towns and cities in the UK, on the possibilities for development and compassionate change. This encourages theories and ideas to be developed and tested at a small and controllable scale within the studio context."
"Justin's project was a highly creative yet sympathetic reimagining of the disused Victorian Dana Prison - Justin proposed to convert the complex of buildings into a highly productive yet very specialist factory. His drawing were exuberant and highly personal. Justin brought elements of his own international culture to the project and combined these with an intense knowledge of the architecture of Shrewsbury. He thoroughly deserved the award."
The SPAB was established in 1877 by William Morris and Philip Webb to oppose the destructive restorations of the Victorian era and promote the alternative of 'conservative repair'. The Philip Webb Award, open to all students at UK Architecture schools who are working towards their RIBA Part II, was first awarded in 1993 and aims to develop students' appreciation of the unique needs and demands of old buildings, incorporating both careful repairs of existing fabrics and new, contemporary construction elements.