Researchers were invited to Downing Street to showcase the Manchester Plinth – a revolutionary new way of using augmented reality to engage with culture.
The first of its kind in the country, the Plinth is a collaboration between Manchester School of Architecture staff and students and engagement solution developer Sparta Digital as part of CityVerve, the UK's £10m smart cities demonstrator.
The Plinth interacts with the Buzzin app – developed by Sparta Digital – allowing users to view digital artefacts on their smartphone via augmented reality.
Professor Tom Jefferies, Head of Manchester School of Architecture, and representatives of Sparta Digital were invited to present the Manchester Plinth at a special Downing Street event for London Tech Week.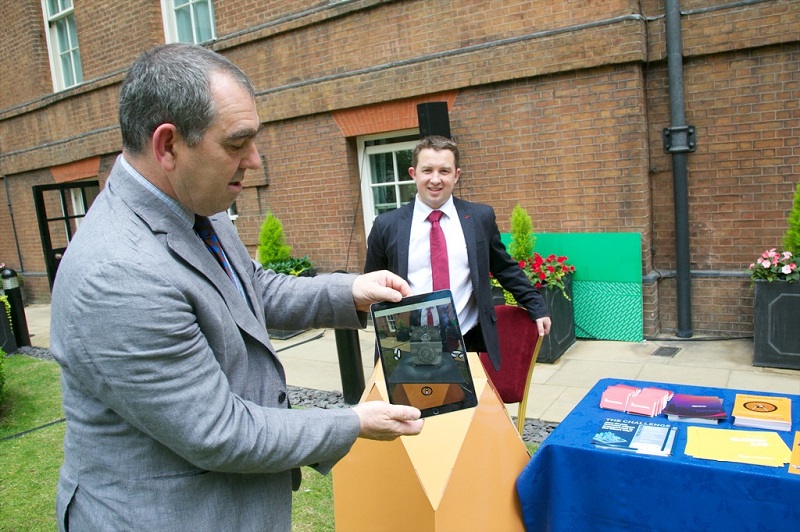 More than 180 leading international tech founders, entrepreneurs, investors, cabinet ministers and MPs attended the event which celebrated the UK's position as a world-leading destination for tech investment.
Prof Jefferies said: "The Manchester Plinth is a new cultural initiative establishing a space between the real and virtual, allowing audiences to explore cultural artefacts in entirely new ways.
"We were delighted to have been invited to 10 Downing Street to demonstrate the Plinth's potential as a radical new way of engaging culture with the city's citizens.
"It is an important recognition of the fact that the Manchester Plinth and the University's involvement in the wider CityVerve project is at the cutting edge of UK technology and cultural development."
During the event, Prime Minister Theresa May said that it was a great time to be in tech in the UK as the sector flourishes and creates high-paying jobs.
CityVerve culture strand
The Plinth is part of the £10m CityVerve's cultural strand that has focused on public realm installations that marry design, virtual technology, art and heritage. It was inspired by the 'empty' Fourth Plinth in Trafalgar Square, which since 1999 has hosted temporary artworks on a rolling basis.
Throughout the past year, visitors to the Plinth have been able to interact with a variety of digital artefacts, curated by Prof Jefferies, Jane Anderson and other cultural partners.
They have seen a flying saucer from Malcolm Garrett's personal collection 'take off and land', an arts and crafts casket on display for the first time in over two decades, figures from popular 1970s animated children's TV series 'Chorlton and the Wheelies', a 19th Century Morris & Co tapestry of the 'Adoration of the Magi' too fragile to be viewed by the public, and a glass sword believed to be the only one held by the city from Manchester Town Hall's opening in 1877.
A final international workshop of the CityVerve project took place in Manchester on June 20 and the Plinth was showcased to Margot James MP, Minister for Digital, Culture, Media and Sport as part of an invited event hosted by Manchester City Council, Manchester Science Partnerships and Cisco on June 22.